In an interview with the July-September 2023 issue of Profession Logistique magazine in France, our CEO Thomas Mortier talks in detail about our expertise in multi-channel logistics.
It's an opportunity to recall our positioning and our points of differentiation, and to take stock of the tailor-made solutions we are developing for our BtoB, BtoC, DtoC and e-commerce customers.
Thanks to our presence in 8 countries and our 78 hubs, we can support any type of company wishing to outsource its logistics, guaranteeing total peace of mind and adapting to its growth.
Outsourcing, flow management, agility, digitisation, but also parity and, of course, sustainable commitments, are some of the many topics covered in the article, which can be found in full here : Press article STACI
#multichannellogistics #outsourcing #picking #logistics #staci
Launched more than two years ago, our digital transformation is best illustrated by the new version of our E-Cats tool.
E-cats is a customisable digital platform that everyone can use to create their own marketplace.
How does it work? Everyone can develop their own platform to turn it into a shop, a marketplace, a tracking solution or all of the above. It can be customised to your specific needs: by brand, by subsidiary, by product type, by colour… the choices are yours!
And because E-Cats is based on a shared user platform, you also automatically benefit from all its monthly updates.
Our new E-Cats is ultra-intuitive, responsive design, UX-optimised, highly secure – it's ISO 27001 certified – and scalable to grow with your business.
With it, you can manage your business completely autonomously:
✅ Product management
✅ Quantity and price management
✅ Management of your sales promotions
✅ User management
And, of course your logistics, with full order tracking, delivery monitoring and the full power of Staci 🚛
Need it quickly? E-Cats can be deployed in just a few weeks, adapted precisely to the level of support you require.
So, are you ready to begin? 😀
#digitaltransformation #optimisation #marketplace #tailormade #logistics
Certification of the hosting of our E-commerce front office and our SAAS WMS platform 🙌
Following a successful and detailed audit across our Security, IT, Operations, Legal and Human Resources departments, QAS International has awarded the Staci group with 💠 ISO 27001 certification 💠, formalising the implementation of an Information Security Management System #SMSI.
🔒 This certification aims to prove our ability to protect information against all types of threats and therefore guarantees, in compliance with regulatory requirements, the security of information systems and data used in our activities.🔓
This powerful certification represents a new step taken in our approach to applying the most rigorous security procedures, both for our company and for our customers and partners.
#ISO27001 #cybersecurity #logistics #staci
STACI'S TEAMS WISH YOU ALL THE BEST FOR 2023!✨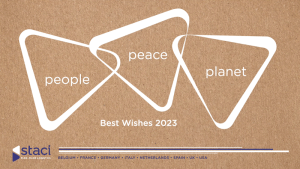 Recently, our managing director Andreas Palmen was interviewed by Wirtschaftswoche.
Topics included the challenge of automation and the special features of the services we offer our customers at STACI Germany.
The whole interview is available in the current ePaper "Wirtschaft im Süden" or directly on the website of the Wirtschaftswoche under the following link.
Staci HAS concluded the acquisition of full service
👉 2 new warehouses located in Rome and totalling 16,000 sqm will complete the Group's transalpine perimeter, already made up of the 2 sites in Milan of 45,000 sqm.
"Having a presence in the Rome area allows Staci to operate in one of the most important industrial districts in Italy and will give us the opportunity to offer effective and strategic logistics solutions to the market". 
Franco Birolo – CEO of Staci Italia
Full Service, based in Pomezia, has been on the market for 50 years and boasts many large customers, mostly located in the south of Rome.
With this new Hub in Central Italy Staci strengthens its leadership in the Italian market for the provision of logistics and e-commerce services supported by digital solutions.
In total, the Staci Group now has almost 700,000 sqm of warehousing space and 62 sites in Europe and the United States, including 4 in Italy.
This year, STACI Deutschland GmbH is supporting a national and sustainable project. On behalf of its customers and employees, the company sponsored 300 trees to support the Planet Tree project, which has been working to reforest Germany's forests since October 2020. In official partnership with the State Forests of Hesse and Mecklenburg-Western Pomerania, many thousands of trees have since been planted.
Instead of monocultures, mixed forests are promoted to give the forest strength and resistance against the dangers of the coming climate changes. Thus, pedunculate oaks, maples and silver firs are planted in the designated areas and carefully raised by the responsible precincts.
As a company, STACI bears a social and ecological responsibility. Through initial steps such as process and packaging optimisation, the group has already begun to reduce its CO² emissions. With the donation to Planet Tree, STACI Germany is taking the next step towards more sustainability.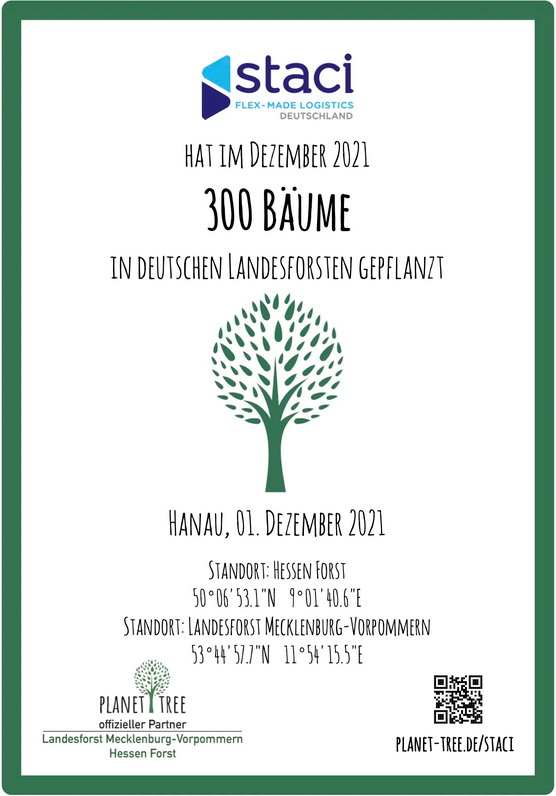 The 300 sponsored trees were divided equally between the Hesse Forest (50°06'53.1 "N 9°01'40.6 "E) and the Schlemmin Forestry Office in Mecklenburg-Western Pomerania (53°44'57.7 "N 11°54'15.5 "E).
Staci's team wish you a Merry Christmas and a happy New Year 2022
which will be marked by the development plan:
"Staci AMBITION CSR 2030"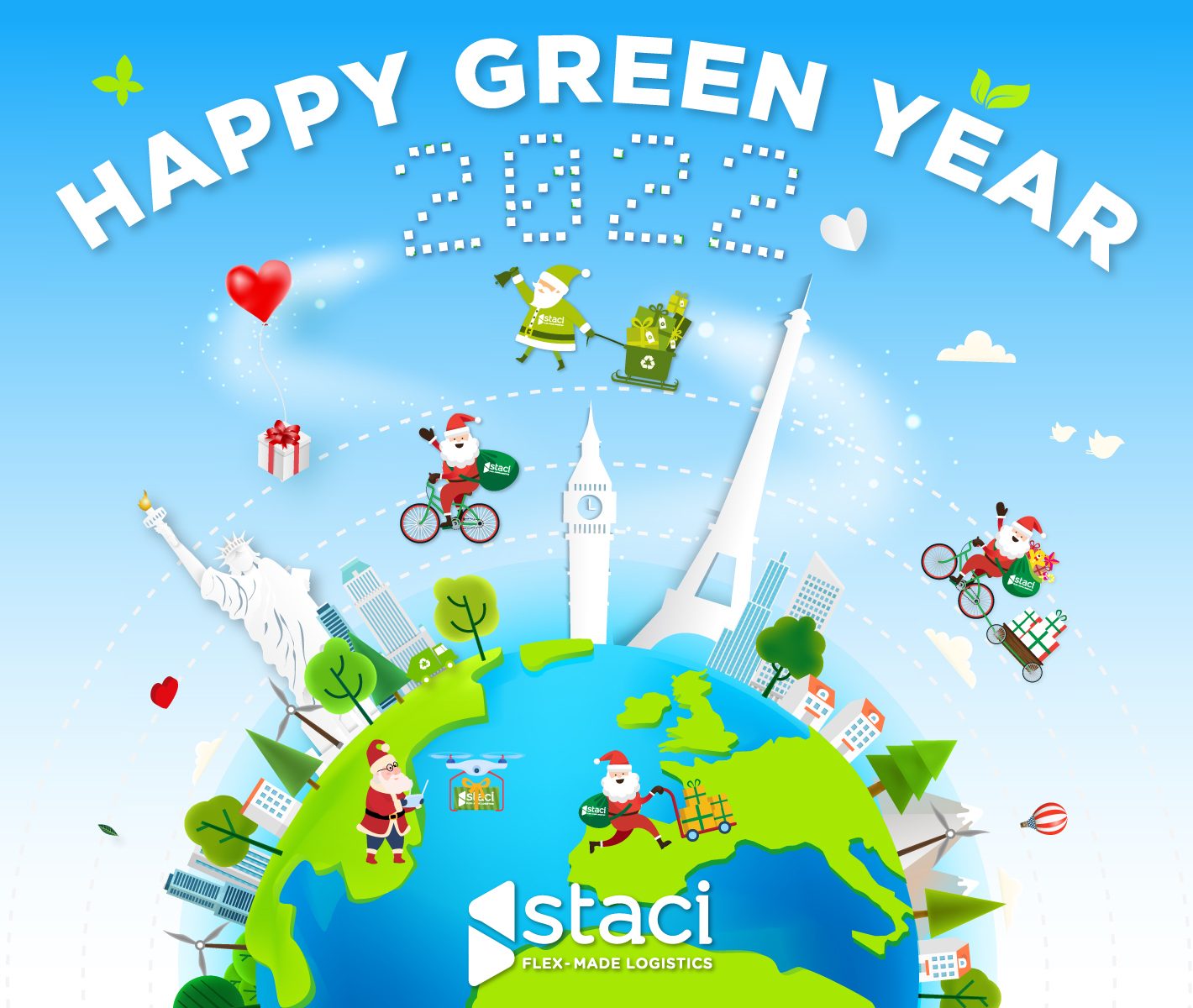 #CSR #sustainability #greenlogistics #ecommerce #samplinglogistics
The Dutch medical logistics company HealthLink Europe became a customer of STACI Deutschland GmbH in October.
HealthLink Europe is an expert in the medical device industry, particularly in the areas of medical devices, diagnostics and pharmaceuticals. Its services include temperature-controlled warehousing, fulfilment, freight management and back-office services. Since 2017, the company has been part of Base Logistics Group, which has also been part of the French Staci Group since the beginning of 2021 but continues to operate independently of the group. HealthLink Europe currently works at four locations in the Netherlands and the USA and services more than 180 customers in the medical device industry.
Together, teams from STACI Deutschland GmbH and HealthLink Europe started to work at the German site in Bergheim for a customer of the Dutch logistics provider, where from now on the STACI team will serve the customer for the German market. Both companies bring significant fulfilment expertise to the project and look forward to a successful collaboration.
They also share news about the project on social media, e.g. on LinkedIn. Stefan Visker, Director Strategic Account Management, recently posted directly from Bergheim: "We are live at STACI Deutschland GmbH in Bergheim for a great client of HealthLink Europe! Thanks to great #teamwork […]!"
Andreas Palmen, CEO of STACI Deutschland GmbH: " We are happy to serve the customers of HealthLink and to write a new chapter in the story of STACI Deutschland GmbH."
The STACI teams wish you a Happy New Year 2021!
#Keepsmiling #keepsafe